To set up phones in a FRITZ!Box
In the base settings of the FRITZ!Box, the phones connected to the ports FON 1, FON 2 (analog) and S0 (ISDN), automatically responds to all phone numbers. Outgoing calls are made via the first set number.
If you want, that single phones only reacts to certain numbers and use another number for outgoing calls, you can configure this in the menu of the FRITZ!Box.
Open the menu of the FRITZ!Box by entering "fritz.box" in the address bar of your browser.
Click "Telefonie" (telephony) on the left side of the main menu. Now click "Telefoniegeräte" (devices for calling).
Now click on the edit symbol next to the phone you want to configure. (If you don't know, which one is the right, have a look at the ports of your FRITZ!Box. They are labeled.)
Please make the desired settings in the following menu: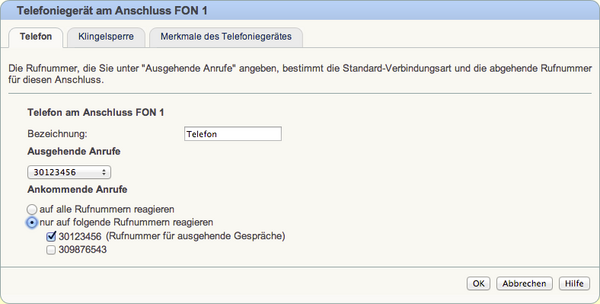 Please choose the number you want to take for outgoing calls in the drop-down menu "Ausgehende Anrufe" (outgoing calls).
In "Ankommende Anrufe", please click "nur auf folgende Rufnummern reagieren" (react to the following phone numbers only) first.
After that, please mark the phone numbers, which shall be signalized on the telephone.
Click "OK" to confirm your settings.
Important notice: With this settings, it could be possible, that single phone numbers do not ring at yours anymore, even though you set them up in the FRITZ!Box. Please act with circumspection.