Eltek V7621 A2 (Telephone Configuration)
Producer: Eltek
Name: V7621 A2
Firmware: V7621-A2_v1.1.29_EAS107
Producer's website:www.eltek.com
Capable with the following easybell connections:
easybell Komplett (ADSL, VDSL, FTTH)
easybell Call (Private customer telephony)
Connecting the telephone
Connecting the phone with the Port "Phone 1" or "Phone 2" via an RJ11 cable or the included RJ11 TAE adapter
If you have got a pre-configured router from easybell, the port 1 is already pre-configured for your main phone number. You do not need to do anything else.
Sign into the web interface of your router
Connect your router via ethernet cable or WiFi (SSID: easybell; password at the back of your device).
Enter the IP address of the router (Standard: 192.168.1.1) into the address bar of your browser.
Use the following login information::

user name: user
password: user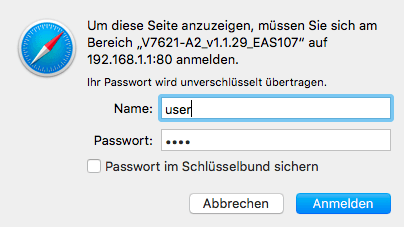 We recommend you create your own password after the first registration (via "Admin"/"Password").
Setting up VoIP telephony
Please notice before setting up, that your router has already been connected to the internet.
Please click "VoIP" and now "Port 1" or "Port 2", depending on which port you took for the telephone.
Now please enter the following parameter to Proxy 0 (or with Port 2: Proxy 1):

Number: Your phone number in the international format (like 00493012345678)
Login ID: Your phone number in the international format
Password: Your SIP password. You can find your phone numbers under settings in the customer portal.
All the other settings for Proxy are already configured for easybell. Please double-check them with the screenshot below.

SIP-Advanced:

SIP-Port 5060 is normally the right one. If you've got any problem with the connection or want to use the port 5060 for another client, please choose the alternative SIP-Port 5064.

Codec:

Choose at "Payload Type" the "101".
Choose "G711-alaw" as the first codec. 2nd: "G722", 3rd: "G711-ulaw", 4th: "G729" or deactivate it.

QoS:

Please deactivate "T.38". This fax protocol is not supported by other big providers anymore. So your faxes are transferred reliably when "T.38" is off.

Now click "Apply".