Setting up Busy Lamp Fields for Quickdial contacts
Busy Lamp Fields (short: BLF) are only available for extensions or call groups within the same Cloud Telefonanlage. Once you have added a quickdial contact with activated BLF, you will see a status symbol next to the contact icon showing whether he is in a call or not. Should you have your quickdial contact saved as contact, the BLF status will show up in the contact list of the easybell VoIP to go App as well.
Notice: The following guide has been created on iOS 14 and App Version 2.1.24. There might be slight differences in your experience, depending on App Version and operating system.
To add a quickdial contact, switch to the tab "Quickdial" and press the "+" in the lower right corner of your screen.
After that you can enter a new quickdial contact. For BLF to work, two things need to be considered: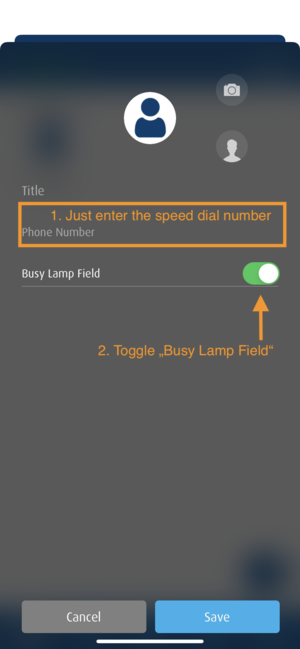 For phone number just enter the quick dial of the extension/ call group that you want to subscribe to, e.g. "22".
Toggling "Busy Lamp Field"
Done! Now you are able to see the status of the extension: Off Call (grey), On Call (green) or Ringing (orange).
Please note that call pick up for incoming calls for the extension/ call group is not possible with Busy Lamp Fields.