How can I configure my Speedport router?
The following guide is made with a Speedport W701V. The user interface of the different Speedports have similar designs, so this one should work for all types.
This is a guide for the DSL configuration. You can find a guide for the configuration of the telephone here. (German)
The process is based on a delivery-stated device. We recommend you reset the device before you start the configuration.
The Speedports only work with our ADSL2+ connections. For VDSL connections we can only give support for VDSL compatible FRITZ!Boxes.
Connect the Speedport with the plug socket. Connect the router with a suitable cable with the phone socket. (You don't need a splitter to use our "Komplett" connections, just put the TAE plug into the middle of your phone sucket. Please put the other side of the cable in the "T-DSL" port of your Speedport.)
Connect your computer via LAN or wifi with the router.
Open the configuration interface of your router by entering 192.168.2.1 to the addressbar of your browser.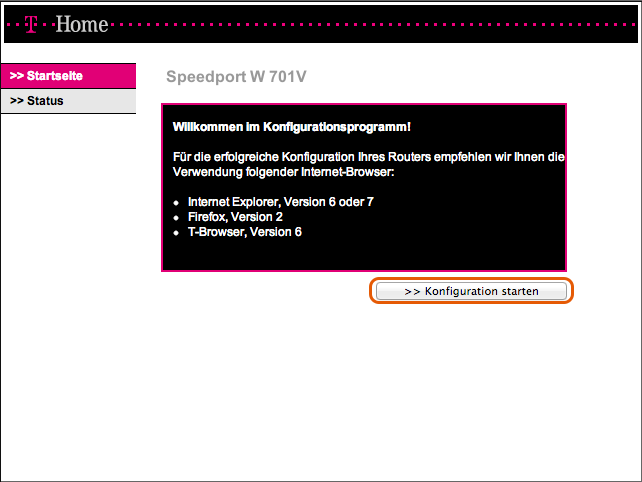 Click "Konfiguration starten". (Start configuration)
Enter the password of the device. (in state of delivery it's 0000). Click "OK".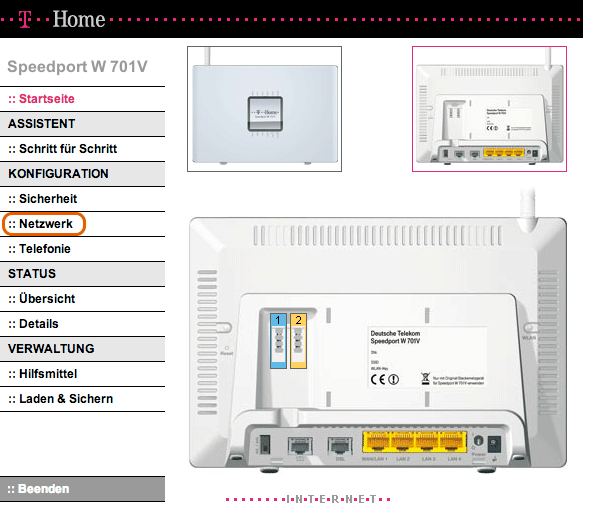 Click "Netzwerk" (network) on the left.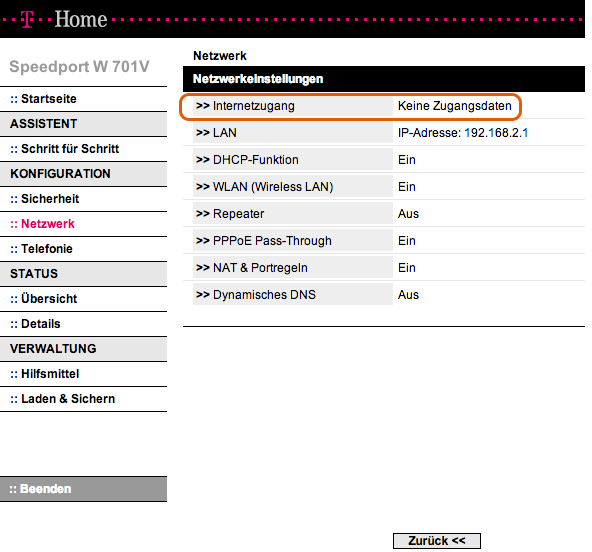 Click "Internetzugang" (Internet access) in the middle.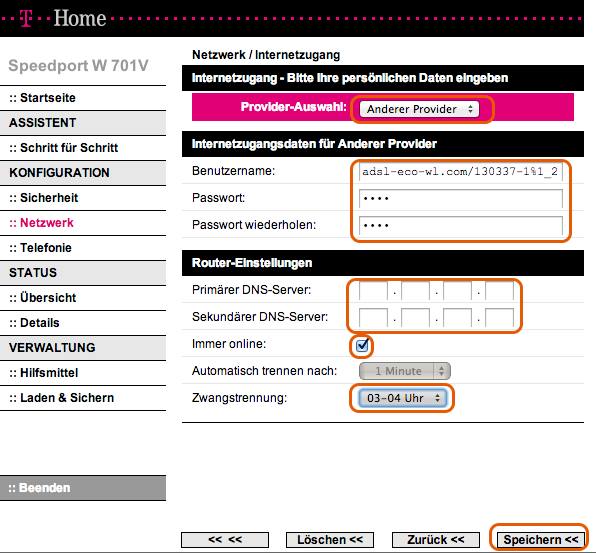 Enter the following information:
Provider-Auswahl (Choice of provider): Anderer Provider (Other provider) now appears a new window, please click "OK".)
Benutzername (user name): You've received your DSL user name via email, but you can also call us via out hotline and ask for it. It looks a bit like this: adsl-eco-wl.com/123456-7%89.
Passwort (password): You've received your DSL password in the same email, but you can also find it in the customer portal.

Primärer und sekundärer DNS-Server (Primary and secondary DNS server): You don't need to fill anything in here.

Please mark "Immer online" (always online)
Zwangstrennung (Preemption): Choose a time when you're not or rarely using the internet (e.g. at night).
Confirm it with "Speichern" (Save).
After that you can set up the phone numbers. You can find a guide here.(German)